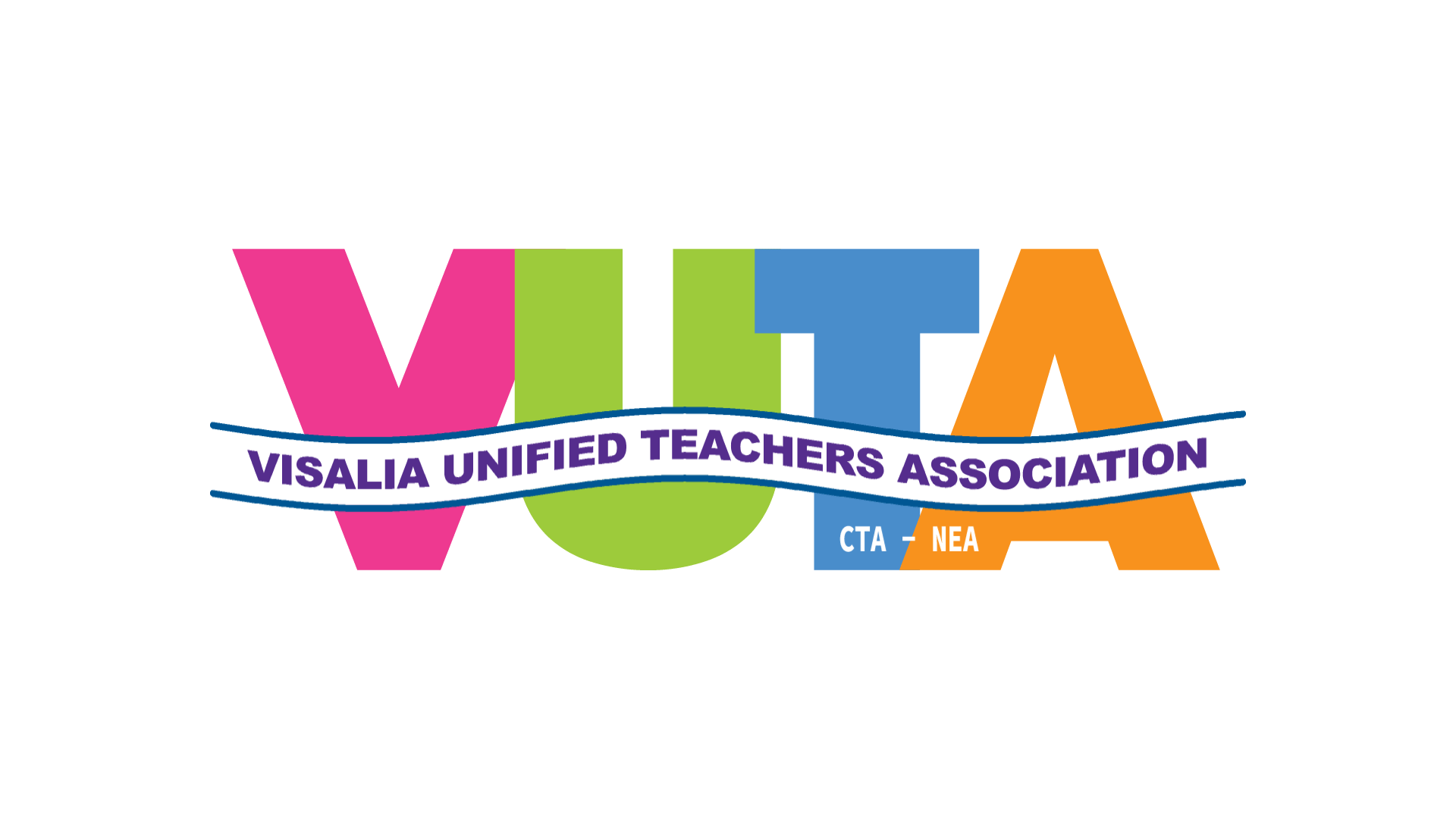 Bargaining Unit Members,
​
Sorry for the long update. There is a lot of information to share. If you have questions, send them to me. I will create a Q & A on Monday....
Schedule –
​
We meet with VUSD this Wednesday to begin bargaining new schedules. We already have a group of teachers making some alternative schedules to use as a starting point. For elementary, there are some more twists and turns if kids are coming back to school (see below). We are working to get another schedule. We know many of you are still dying out there and 12-14 hour days are unsustainable. The VUTA goal is to see a new schedule implemented somewhere between October 5- October 12th. Remember, that is just a VUTA goal….
​
Other topics:
Today we will cover several hot-button items. It is difficult to ascertain details on most items. VUSD is keeping information to themselves. They are dropping hints and asking for things to be done at our school sites. I know from many communications from teachers that all of the tasks they want you to do are making you more stressed and apprehensive. I will do my best to try and unravel all of this…
Cohorts
​
(one way to bring certain groups of students back to campus)
​
New guidelines are continually being released by the State of California. I spoke to the Tulare County Health Office and got more detailed and accurate information. Here are things I learned.
​
School districts now have an option to bring small cohorts of students on campus for in-person instruction. A cohort is a stable group of no more than 14 children or youth and no more than 2 supervising adults (or a configuration of no more than 16 individuals total in the cohort) in a supervised environment in which supervising adults and children stay together for all activities (3.g., meals recreations, etc.) and avoid contact with people outside of their group in the setting.
​
Cohorts are not "approved" by the Tulare County Health. As long as a district meets the guidelines (Tulare County makes sure they have a "plan"), they may proceed to open with cohorts. So, VUSD has indicated the following cohorts are their priorities:
​
In my discussions with VUSD, the first priority is 1-1 testing for some Special Ed students. We have requested a meeting with VUSD district office SPED folks. We are awaiting possible dates to meet and discuss this new wrinkle.

It appears that the second priority of students VUSD may bring on campus are homeless and foster students. Obviously, the District would like to find more suitable workspaces for these students than their cars or tents. I am just guessing here, but I would think the consideration might be placing those students in the cafeteria where they could work with better tech conditions and access to better nutrition.

​
There may be discussions about other groups of cohort students. We have not bargained an MOU for in-person school. The only MOU we have completed and signed is for distance learning.
Using cameras as a live-feed in your classroom every day
​
One possibility (when we come back to in-person school) that has been given is that each teacher will keep their entire class (including Full Distance Learners) and use cameras to pull in all Full Distance students. It was not a rumor, but an idea that VUSD has been exploring. My understanding is that elementary schools have had this discussion at sites outside bargaining with VUTA. To be clear, VUTA has NOT bargained or discussed the idea of having cameras in classrooms. To be precise, VUTA has not had any in depth discussions regarding this item.
​
Clearly, that is an issue that would need to be negotiated on a number of different levels. That solution might work for some groups. It may infringe on teacher rights on a different level. As we consider these options, we will need lots of input to make sure we are covering all of our bases.
Waivers
​
(a different way to bring back elementary students, TK-6, back to school)
​
In my discussions with the Tulare County Health, I found out more pertinent information that should bring all of this into focus for you. If you follow the colored state-wide monitoring system you will see that in the purple category, you can not have students on site. However, there is a caveat. If your county has New Cases per 100,000 under 14, you may request a K-6 waiver. Our last number reported were 12.6 new cases per 100,000, which would allow VUSD to seek a waiver. Dr. Ravalin said in the last school board meeting that VUSD would be seeking a waiver for students (elementary in this case) to return to campus. It may be K-2 or K-6 (this includes TK).
​
These waivers must have a complete plan. There are somewhere around 15 different areas that must have a plan. I am told that VUSD is writing their waiver plan as you read this update…. Here is a partial list:
​
Social distancing

Plan for if a student tests positive

PPE

Air circulation

Health and hygiene

Plan in place for shutdown if there is an outbreak

Staff safety

Training and Education

Signs & Symptoms
​
You get the idea. So, if the school district adequately addresses all of these items in their plan, the waiver will be granted. Our expectation is that the District will be moving elementary students (we don't know if this will be K-2 or K-6) back to sites in the near future. We don't know how far VUSD is in this plan or when students will be coming back. We have told it would be in stages. We are seeking clarity on what that would mean.
​
For middle school and high school, we must wait until we reach the Red Tier to bring students back to campus. See more details below.
Bringing middle school and high school students
back to campus
Governor Newsom's color-coded state-wide monitoring system has four colors: Purple, Red, Orange, Yellow
Purple is the worst county statistics and much of our state falls into this category. Yellow is the best statistics.
Purple Category (widespread) - Counties with more than 7 daily new cases per 100,000 residents or higher than 8% positivity rate. In the purple category, schools must stay closed unless you meet the criteria to seek a waiver…
New Daily Cases per 100,000. Also, we can't have more than 7 new cases per 100,000 to meet this health marker. We are currently at 12.6 new cases per 100,000 in Tulare County.
Positivity Rate - Also, we can't have more than 8% positivity rate. We are currently at 8.7% for our Tulare County positivity rate.
Please note that you can seek a K-6 waiver if you are under 14 new daily cases per 100,000
Middle School and High School can reopen for in-person instruction after 14 consecutive days in the Red tier.
K-6 can also have in-person school after 14 consecutive days in the Red tier.
Red Category (substantial) – Counties with 4-7 new cases per 100,000 or 5-8% positivity rate.
New Daily Cases per 100,000. Also, must stay within 4-7 new daily cases per 100,000 to meet this health marker.
Positivity Rate - Also, must stay within 5%-8% positivity rate
In the Red category. Schools can reopen for in-person instruction after 14 consecutive days in the Red tier.
New Attendance/Tracking System
So, there is a lot of discussion about how this "tracking" system will be implemented. Your CTA dollars are at work as we speak. Tony Thurmond, the Superintendent of Public Education and Toby Boyd, the President of CTA, are speaking about how to make a system that works for educators. Please see the attached PDF.
​
Don't let this new twist increase your stress. Remain calm while we work through this. The template the CDE has provided is not required, it's just one option of how to track attendance and engagement.
​
We have a lot of smart teachers in VUSD. There are many options at our disposal. Some teachers are working to make a fillable form as we speak. Schoology is just one option.
​
I am also going to reiterate one of the most important things we do is collect ADA. This affects us at all levels from services to students all the way to your paycheck. We will find a way to make the work for teachers minimal while still meeting the requirements by the State of California.
Grading
I know there is a great debate brewing regarding grades at the middle school and high school levels. This is actually a much broader discussion of:
​
expectations for students

methodology of getting credit for student work

expectations for teachers and assignments; attendance (what constitutes "being there")

expectations for admin and the District office (who is responsible if students don't complete work or attend school)

communication (are we making sure both students and parents are aware of student progress before the first grading period).
​
We have put out a grading survey for middle school and high school. It should be completed on Monday and we will publish results on Monday evening. Stay tuned.
​
As a district, these are important topics and we need to give students, teachers and parents firm guidelines of what is expected and how success/failure "looks". We are in the education business and our practices should revolve around teaching, using clearly stated expectations for all…
SPED
This week we are seeking a meeting with executive members of cabinet regarding Special Ed. We know that many of you have pressing concerns. We have a team of 6 representing all facets of SPED. We intend to start dialog with how to deal with these concerns. We had a meeting today. We will share some takeaways from this SPED meeting next week.
​
Some of you may wonder if some information shared means K-6 is coming back immediately (like in early October). That is unknown, but it is possible if all things align. There would be many questions to answer regarding full distance teachers and students. Hang in there everybody and have a great weekend.
​
Do something fun for yourself and catch your breath...
Greg Price
VUTA President
​
​