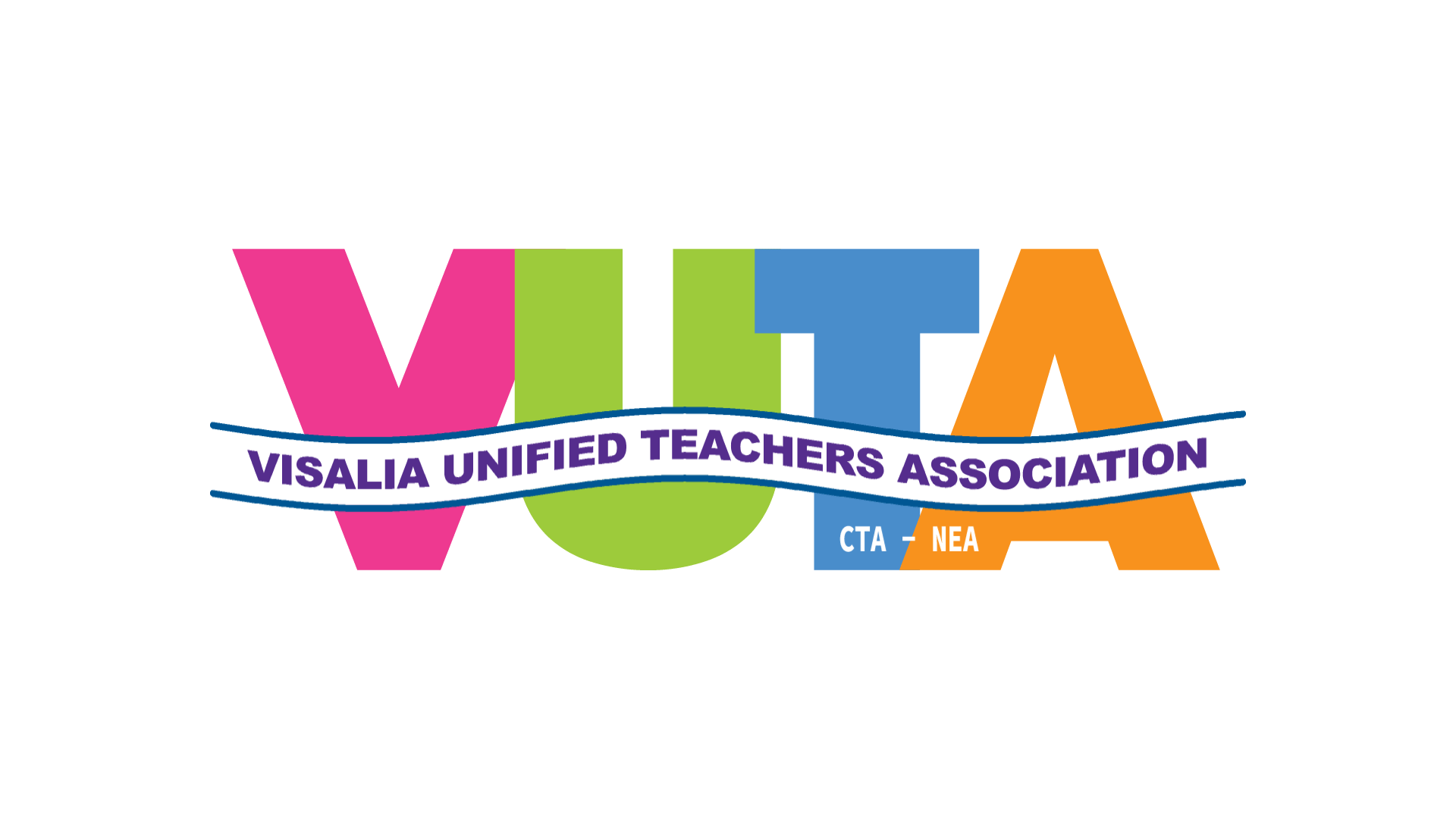 Passionate About Inspiring Others
Welcome to our new website! Visalia Unified Teachers Association is working hard to provide VUTA members, and the community alike, with a space where resources and information can be easily accessed.
Remember to GET INVOLVED! We want an active and thriving membership of teachers who know each other and share what works and what does not work in the classroom. To be notified regarding our upcoming TGIF Nights and to stay informed about VUTA Events, make sure you add our VUTA Events Google Calendar to yours!
President
Greg Price
VUTA Office
559-730-7995
Vice President
Larry Johnson
Sequoia High
559-730-7649
Secretary
Liz Forsythe
Redwood High
559-730-7707
Treasurer
Bev Wells
Mineral King Elementary
559-730-7779
Division 1
Annie R. Mitchell, Elbow Creek, Ivanhoe

Christopher Pope, Annie R. Mitchell Elementary, 622-3195

Division 2
Golden Oak, Mineral King, Mountain View

Kristine Olson, Mineral King Elementary, 730-7779

Division 3
Green Acres, Ridgeview, Valley Oak

Marie Gonzalez, Valley Oak MS, 730-7681

Division 4
Crowley, Highland, Houston, Shannon Ranch

Stephen Archer, Crowley Elementary, 730-7758

Division 5
Conyer, Pinkham, Royal Oaks, Washington

Sandy Johnson, Pinkham Elementary, 730-7853

Division 6
Redwood

Michelle Avila, Redwood HS, 730-7701

Division 7
Mt. Whitney

Terry Turney, Mt. Whitney HS, 730-7602
Division 8
Golden West

Steve Delgado, Golden West HS, 730-7814

Division 9
Goshen, Hurley, Willow Glen

Chris Saenz, Goshen Elementary, 738-7798

Division 10
Divisadero, La Joya

Rachel Wilson, Divisadero MS, 730-7661

Division 11
Cottonwood Creek, Crestwood, Linwood, Veva Blunt

Raul Gonzalez, Crestwood Elementary, 730-7754

Division 12
El Diamante

Lonnie Miller, El Diamante HS, 735-3501

Division 13
Adult School, Elem. PE, Music, Sequoia, VCIS, VTEC, VLC

Jose Vega, VCIS Charter School, 735-8055

Division 14
Four Creeks, GLC, Manuel Hernandez, Oak Grove, Riverway

Martha Franklin, Oak Grove Elementary, 730-7768
COMMITTEES
Coming soon...