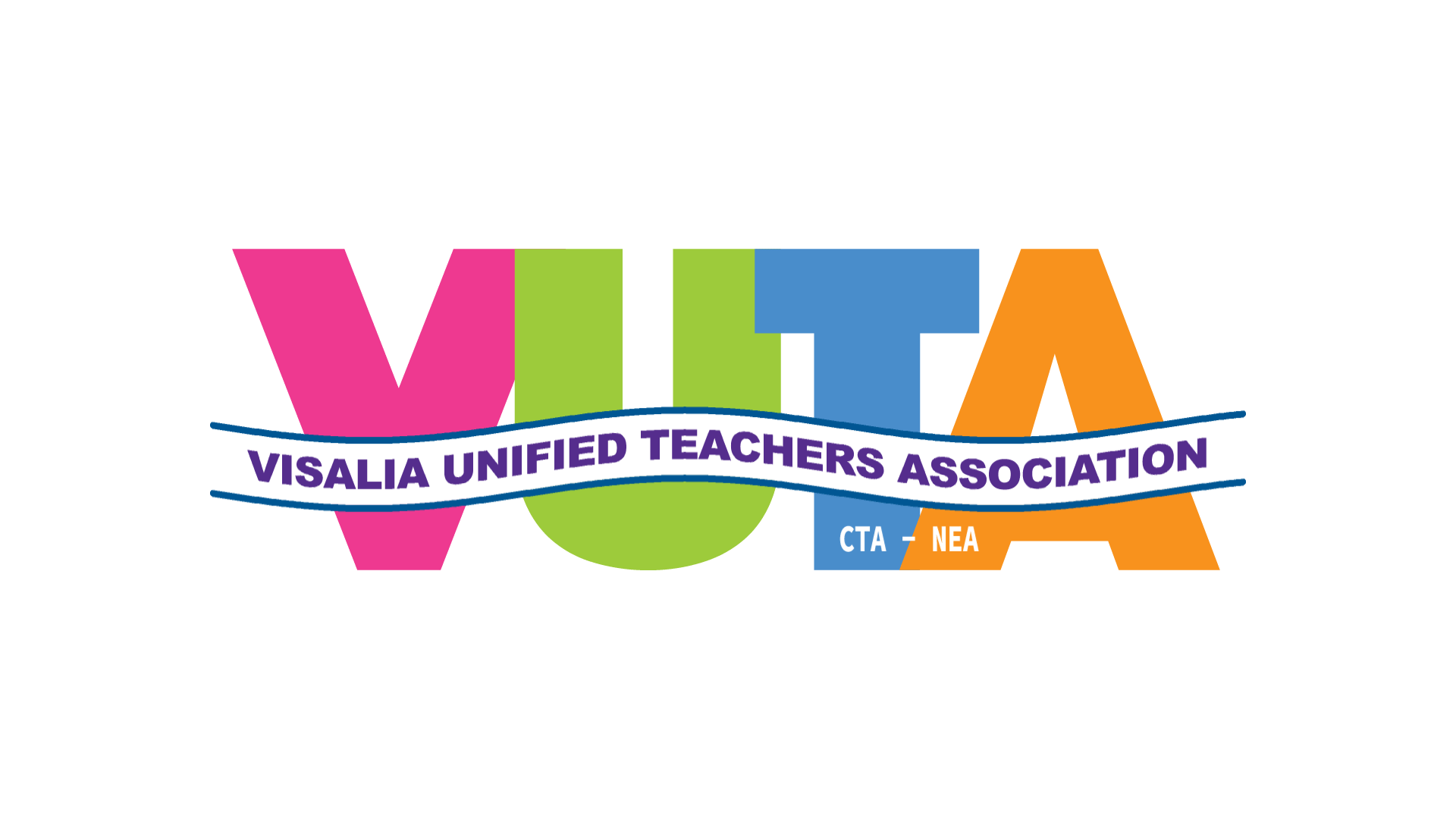 VUTA Update – July 31, 2020
Bargaining Unit Members,
​
Constant Change - Well true to form, things are always changing. This week has been busy meeting with almost all 45 VUSD schools on "townhall" Zoom calls. My apologies for such a long update, but there is a LOT of information to cover!!
​
Last "townhall meeting" - I am meeting with Goshen on Monday morning at 9:00. This will also be opportunity for anyone who missed their meeting to join us on Zoom. The Zoom link for Monday will be at the very end of this email.
​
Think time - I wrote most of this last night, but needed an evening to let my thoughts percolate so that I could effectively communicate what has transpired over that last 5 days.
​
County Health numbers - Additionally, locally we have a continuing escalation with our Covid-19 health numbers. In Tulare County, we are certainly going the wrong direction and it seems like being removed from the Watchlist will take some time.
​
Attached Survey Monkey results - Included in today's update are recent results from our Survey Monkey that ended around July 24th. The other Survey Monkey attached regards a poll for Middle and High School teachers that was sent out on Thursday night, July 30th which gave three Middle/High school schedules as options. A couple of more survey results to come in the next update...
​
In context, for the first Survey (around July 24th) this Survey started prior to the District announcing they intended VUSD to start school in August in the hybrid mode and for some, they would start in Full Distance Learning. The very next day, we had Governor Newsom announce that each county that was on the Watchlist would NOT be able to conduct in-person school until their county was off the watchlist. So, the VUSD plan was sunk and we were essentially ordered by the governor to start school on Distance Learning mode and the scramble was on. This survey was also conducted because a previous VUSD "joint" survey indicated teachers were ready to return to in-person school. At that point, VUTA knew that opinions had shifted and we needed a new gauge of educator thinking. So, this survey was put out to our VUTA members. You will find the results to that survey attached in a PDF.
Bargaining
​
I will say our team is working hard to have this Distance Learning MOU completed by Monday. The two bullet points section outline the positives and concerns in bargaining this MOU with VUSD.
Positives in bargaining
Transfer language is in place for Distance Learning (there will be significantly fewer transfers with the "Homeroom" being in place, see the Homeroom sections below the bargaining comments)

Working conditions – Teachers will have the choice of working from home, school or a combination of the two at the teacher's discretion throughout the Distance Learning model

Focus - This MOU is focused on Distance Learning which is the most immediate concern. We will focus on in-person learning as a separate, future MOU
Concerns in bargaining
​
Schedules – Part 1 - To be clear, the A/B schedule works well if we need to separate students using social distance (6 feet apart). That was the intent of the schedule, to be used to separate classes into smaller groups. Some teachers may prefer this model even with Distance Learning. Below is a breakdown of how that looks from our latest survey (not yet complete, but the trends will probably stay the same).

Schedules – Part 2 – The District is adamant that A/B model be used for EVERYTHING. This includes "Temporary" Distance Learning, Full Distance Learning and a futuristic idea that we will have in-person school and of course we will use the A/B hybrid model

Schedules – Elementary teachers have indicated by more than 2:1 that would go with the hybrid A/B model in both in-person school and online

Schedules – Middle School and High School teachers in a recent survey have indicated, overwhelmingly, that they would prefer a model that allows them to work with their full classes, two day a week. More than 85% of those responding (about 350 responses) indicate this "1/2 day" model is their #1 preference by a mile. Additionally, many other districts have chosen a similar middle and high school schedule indicating this is a great working model for middle and high school.

Homeroom attendance - We have additional concern that students that attend the B session (afternoon) are required by the District to get up for attendance at HomeRoom - (8:00am)

VUSD negotiators - When the VUTA team presented the information regarding schedules, it was completely dismissed. Our VUTA team felt that the concerns/desires of the middle and high school teachers were not considered despite the team demonstrating that the scheduling work already completed by VUSD administration could still be used in conjunction with the VUSD model. To be frank, there was no engagement by VUSD in this discussion at all…
Homeroom
​
So, this idea came from the District on Wednesday. The idea was designed to fix the problem of all teachers and students being transferred/assigned to Washington and Mount Whitney, respectively. The idea starts with creating a 15 minute "homeroom" at each site. Students would report to homeroom for attendance with their homeroom teachers at their present school "sites" (this "homeroom" is virtual in any case). This is what homeroom achieves:
Homeroom Student Attendance - Full Distance students now remain at their respective schools by virtue of taking attendance. So, they will effectively not be transferred if they are on Full Distance Learning.

They will take attendance at their home school and then attend "virtual classes" at either Washington or Mount Whitney. This is similar to how a student at Redwood takes attendance at Redwood but may take classes at Mount Whitney. Therefore, they are always a Redwood student. This has been their Redwood/Whitney protocol for years.

Homeroom lets teachers stay virtually with their school - Full Distance Teachers will remain at their home school just like their students. They will remain a teacher at their regular site, while teaching courses for the "virtual" Washington or Mount Whitney sites.

Money - The other major problem homeroom solves is a money issue. ADA (average daily attendance) for each student goes to the site of origin. This includes LPAC money. So now that the students will remain "rooted" to their school, the ADA and LPAC money also is "rooted" to their schools.

Connection – One more issue homeroom solves is that the students have a daily connection to their home school, seeing the homeroom teachers from their school each day.

No extra work - Homeroom will not create any extra work, there is no teaching assignment for these 15 minutes other than taking attendance. There will be no grading instruction, no prep work. This has all been agreed to in the MOU (which is not signed yet).
Convocation
​
I confirmed this information yesterday with Tamara Ravalin. Teachers will be able to view the convocation from home or at school. Teachers may view this broadcast through Keenan, similar to a training. Keenan will tell the District if you have completed the convocation broadcast. In addition, there will be a quiz after the convocation, similar to a Keenan training.
Monday – Wednesday - August 10-12
​
Part of my discussion with Dr. Ravalin yesterday was in regards to Monday-Wednesday as we start school. I asked her what the expectation was for teachers and school sites for those days. She said as much as possible, they expected to use the same protocol of schools/principals deciding how they spent that time. My thoughts were that we are obviously in a "virtual" world right now and that any meetings/trainings would be virtual. This idea was not expressed by Dr. Ravalin. As I thought about it, I am hoping that intent that everything be virtual was her intent as well.
​
Wednesday is a teacher work day. Many of you will be working on tech. I hope you will test out all of your tech with your peers. Make sure you can operate the simple tasks. You may wish to work in your classroom. If you do, PLEASE be safe and courteous (wear a mask around any colleagues). Even if you don't have a concern, many other teachers do.
Budgets
​
So, many of you have asked about your classroom budgets from last year. The District told me repeatedly from March until June that the individual classroom budget money had not been swept into the General Fund. As many have asked me about their last year budget, I asked VUSD where that money was now. The answer given was that the 2019-20 fiscal year budget has closed and all "unused" money was no longer needed and essentially had been added back to the budget. I am aware that this answer is unacceptable to many. It seems unfair.
Full Distance Learning schedule
​
Many of you have asked what the Full Distance Learning schedule looks like. My information from my meeting yesterday is that the Full Distance Learning Schedule will follow the A/B hybrid schedule like everyone else in VUSD. In regard to keeping your classroom, it is possible that Full Distance Learning teachers might get to keep their classrooms as long as everyone is on distance learning. However, if by some miracle we get to return to in-person school this semester, your classroom may be needed. We will deal with for the time being on a case by case method.
Zoom
​
There has been a great deal of discussion about Zoom. We will be able use Zoom in the manner I described in one of my previous updates. That means in-person, students seeing each other, students able to participate with each other, teacher in control of Zoom.
The issue of the day is breakout rooms. Apparently, VUSD had indicated that breakout rooms would not be available.
In my meeting yesterday, it was indicated to me that teachers using ZoomPro would be allowed to use the breakout rooms. I believe the protocol (don't quote me as I am not sure I have this right), K-6 teachers would need an adult in each Zoom breakout room, 7-12 would not need an adult in each Zoom breakout room. That seems to have addressed the many concerns that were brought to me by text, email, phone and social media!!
​
Also, the District is considering using classified staff to be the extra adults in the K-6 breakout rooms.
Waiver
​
There is discussion of a waiver being sought by VUSD to allow Special Ed and TK-2 students to return to campus PRIOR to being removed from the County Watchlist. There are no clear guidelines to what this looks like. So for the time being, it appears there is no immediate action to be taken. We will continue to closely monitor that situation and keep you in the loop!
Personal Thoughts
​
If I have missed phone calls, texts or emails, I apologize. I am currently receiving around 100 texts, phone calls or emails each day in addition to scores of Zoom meetings with VUTA members and the District. If I am not answering you directly, I am hoping that I am answering your questions in my update (sometimes my topics come from your correspondence!) So, if you haven't had your questions answered, please reach out to me again!!
​
I want to thank all of you who took time out of your summer to attend one of the 20 "Townhall" Zoom meetings we conducted this week. VUTA has the goal to keep you in the loop and be as transparent as possible. I count on our VUSD educators to always do the best work possible for students.
​
More things are coming into focus and I could spend lots of time detailing how we got here. Right now, I choose to move forward on getting back to work on August 10th and greeting students on August 13th. Let us make that our focus. Let us devote our energy towards that goal. Let us greet our new teachers and help them in all ways possible. You are all unique professionals. I look forward to seeing the amazing things you will do with this new, improved, virtual platform.
Greg Price
VUTA President