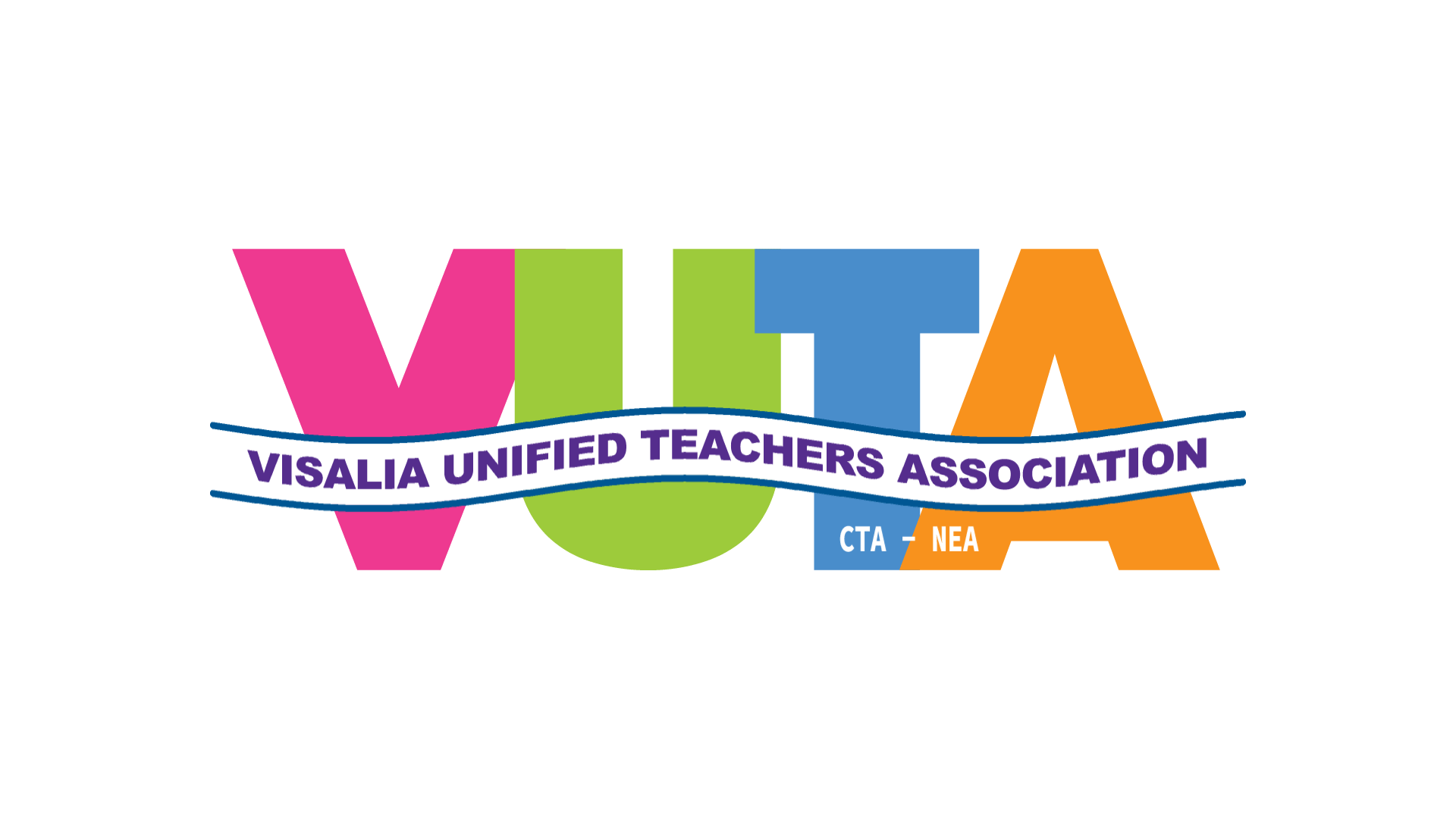 Board Meeting
July 14, 2020
VUTA's Statement to the School Board
Delivered by VUTA President Greg Price
​
​
Board President Crabtree, Members of the Board, and Dr. Ravalin,
​
Tonight, I am calling in on behalf of the Visalia Unified Teachers Association.
We first would like to acknowledge all of the tireless efforts of administration, classified staff and teachers to find creative ways to teach our students during the greatest challenge to education in decades. Covid-19 has produced thousands of questions but very few answers.
​
Our foremost, collective effort should be to ensure the safety of our students and staff. By doing so, we also protect our students' families. We need to protect the grandparents and parents, siblings and neighbors. Currently, we are avoiding all large gatherings in our community and this is also being done throughout the state and nation. We are now required to wear masks in every public setting. The State of California has just closed down nearly every indoor activity.
We are watching school districts around us turning to full Distance Learning formats for their student because of safety concerns. Notably, Los Angeles Unified, San Diego Unified, many bay area school districts and closest to home, Fresno Unified School District have all decided to open in Distance Learning mode. All of these school districts have decided that reopening schools is too risky at this time.
​
In Visalia, Covid-19 cases are not going down at all, they are in fact spiking. Our hospitals beds are filling and many of us are now at the point where we personally know people who have been diagnosed with Covid19.
​
Early on, we looked to important markers that would let us know if reopening would be safe. So, how are we doing? We haven't seen the confirmed cases of Covid-19 remaining constant or going down for a two week period. We haven't seen the directive to create social distance be removed by the State of California. We just saw all indoor activities be banned by the State of California and there is still a limit on social gatherings. All of these things were listed as prerequisites on April 6, 2020 to reopen. We haven't met any of these.
​
Personally, I know this is a difficult decision. I have a daughter who is a Senior at Golden West. She desperately wants to go back to school. We, as the grownups, have to make tough decisions. We all know parents want their students back in school. They also need to feel that a return to school will be safe for students and staff. We have not reached that plateau yet.
​
Therefore, the Visalia Unified Teachers Association had their Board of Directors meet this morning to discuss our position regarding the reopening of schools. We have decided that the most prudent plan would be to delay the opening of in-person Visalia schools until at least Labor Day. To be clear, we would start the 2020-21 school year in a Distance Learning model on August 13th. This would give us time to teach students through Distance Learning and to train our teachers on various new learning systems, Zoom and other digital platforms and to ensure that all of our students and teachers are equipped with laptops and wi-fi. We would also have some time to better prepare for a return to in-person school. Finally, it gives our community a bit of time to prepare for the hundreds of details that will need to be resolved as we return the majority of our students to in-person school.
​
The teachers of Visalia Unified respectfully ask our VUSD School Board and Staff to start school with Distance Learning and continue in that model until at least Labor Day. We propose that in-person school would begin after Labor Day or when it is determined to be safe. We should accelerate our efforts to begin with Distance Learning. We would continue to shape our return to school thus ensuring a smoother transition between Distance Learning and in-person education.
Thank you for your time.
​
​